Solar Power – Green Sheet Metal Fabrication
Solar Power – Green Sheet Metal Fabrication
Here at Saint Ann's Sheet Metal to make ourselves more competitive and more environmentally friendly we covered the entire roof area of the factory with Solar Panels (30kW system), producing an estimated kWh 25710 a year and it has exceeded our expectations, benefits also include reducing our carbon footprint for the entire business, reducing our peak load demand at busy times and believe us we are busy, even when the sun isn't shining !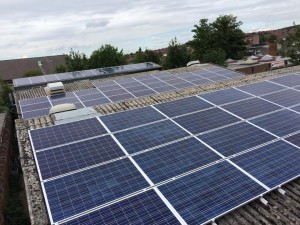 An average three bedroom house for instance uses 3,100 kWhs of electricity a year, so we are nearly producing the electricity requirements for 8 homes on a yearly basis just from our roof. We think this is amazing. It really is helping us reduce our energy costs to the business, as well as reducing our carbon footprint ! Its Saving us and the planet 11374 Kg of CO2 per year.
Our most energy hungry machine the TRUMPF FIBER LASER uses 20-40 KW when in use, and we are producing 30Kw from the solar panels. All our surplus energy we make will be sold back to the national electric grid, when our peak machinery is not using the sun.
The Solar Panels have helped us yet again to be more competitive on laser / fiber cutting & welding while at the same time being more green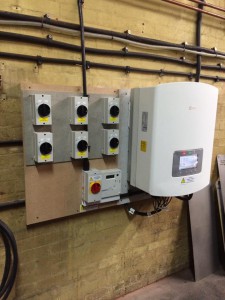 Dave Bloomer (Managing Director) quoted regarding the installation, " Brilliant job thank you. Great how you sorted paperwork, weren't disruptive with this quite big installation. Thanks for working round us so well without any effect on our production. The job is very neat and has been done very professionally with all instructions and certifications. You explained every stage, I thoroughly recommend anyone interested in solar to get in touch with Luke Davies at Ashfield technology. Thank you for a job well done and I have a smiley face "