On The Job – Programming with Andy Wass
Andy is the Saint Ann's CAD programming specialist. Over the 25 years since he joined the company Andy has gone from manually programming 'G-code' to becoming a trained expert on Radan software.
G-code is the name for the most popular numerical control (NC) programming language.
Like other computer code languages, G-code serves to tell machine tools how to make something. In essence, it is a set of instructions on where to cut and how fast to cut. Andy was first trained in Radan programming for laser cutting and CNC Punching many years ago but continues to keep on top of the latest updates as they come. After years of experience using Radan he then trained another staff member in the same programming.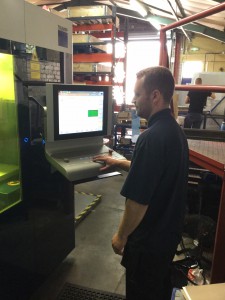 Andy said, "As a team we work very well across all departments. We have many specialists at Saint Ann's Sheet Metal and so we regularly train other members of the team."
The job of a laser programmer can often involve taking 3D illustrations and reconstructing them as a flattened template, ready to be cut. The programmer is needed to specify the steel, thickness and method of the cut. The template is then 'nested' to generate a sheet of metal containing the required number of cuts, with as little raw material waste as possible. Nesting can either involve duplicating a cut across a sheet of metal or combining other cuts.
The programming then goes forward to production on the Trumpf TruLaser 3030 Fiber laser cutting machine manned by Wayne Carter. Click here for more information on Wayne and the Trumpf TruLaser 3030.